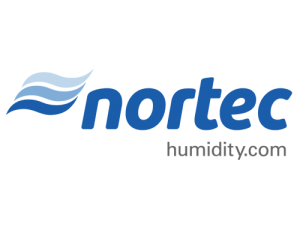 Nortec is the leading humidifier brand in North America and we are happy to represent them in Oregon and SW Washington.
Nortec offers a full line of atomizing, isothermal and evaporative systems, and continues to introduce new technologies at an astounding pace. See the new piezoelectric systems with Teflon coated 'heads'. Their new vertical gas-fired unit is small, efficient and easier to maintain than any other gas model available.
Nortec is part of the global Condair group and for more than 65 years has enjoyed the benefits from using technologies that are developed world-wide.
Full offering of isothermal (steam) and adiabatic (evaporative) humidifiers
Capacities from 5 #/hr to 1000's of #/hr
Residential, commercial and industrial technologies
Air/Water spray or High Pressure Spray systems
Electric steam, Gas-Fired Steam, Steam-to-Steam
Evap media modules, Dual technology Evap and Piezoelectric systems
Water treatment systems for RO/DI water
ISO 9001:2000 certified quality assurance standards
Expert technical assistance in design and application